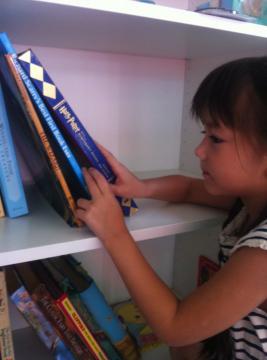 Lately, I heard the news on TV/radio regarding how SpongeBob show has ruined children's brains. I for one think that it is not SpongeBob's fault. I have seen the cartoon (though I am not a die-heart fan) a few times and I actually enjoyed it! I find him to be a loyal person. He tries his best to protect his boss's restaurant and the secret recipe. I also think he is very caring. He constantly looks after his friend, Patrick, and his little pet. He has demonstrated great friendship towards to Sandy. I think there is a lot to be learned from SpongeBob.
So, why is SpongeBob bad for your children? Maybe we should look at it another way, it's not SpongeBob is bad, it's more related to TV watching. Watching too much TV is bad. The rapid frame display on TV does slow down your brain. That's the problem. It's not SpongeBob is the problem.
So, what should you do? How about turn off TV and read with your children? A lot of times, parents are so busy that they don't have time to read with their children. In our house, we have a habit that we will read with Owen and Ella before bed time. Sometimes, it's a Chinese book, sometimes, it's an English book. It doesn't really matter. But, we read. When the family is together, we try to play games together. It could be a board game of some sort or a Lego game. Of course, we do get together to watch a TV show or a movie. But, that's rare.
Now, since the English learning studio is opened, Language Plus Living Space, Owen and Ella are here a lot. When they are done with homework, they often will find a book to read or play a board game. This is definitely a better way to spend time than watching TV for hours.
Reading is not just for kids. It's also for adults. I definitely encourage parents read together with kids. At Language Plus Living Space, we have a mom who is so willing to learn with her children. Even though only her children signed up for our activities/programs, she is always there to learn along with them. We don't mind spending the extra time to teach her because we know that she will go home and read with her children. To us, there is no better rewards than that!
Want to join in on the fun? Check out Language Plus Living Space's (語言家) website at http://languageplus.albin.net/. Owen and Ella are waiting for you to come an play with them. :-p