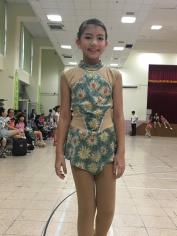 Ella has competed in a rollerskating competition over the weekend, 06/18/2016.  She had so much fun preparing for this competition.  She always loved rollerblading/rollerskating.  In Feburary, she decided to take it up to a notch by starting to learn how to figure skate.  Since then, it's been fun watching her learning and practicing.  Once we learned that the coach has entered her into the competition, she had trained hard and practiced many hours just to perfect.
During this time, she also took care of her studies in which she completed her 5th grade math and started on 6th grade ahead of time, and acted in several TV dramas/movie.
The best part about this is, she loves every single minute of it.  She loved her busy schedule and was happy with everything she's learned.  It is such a pleasure watching her grow!
若瑄在上週末(2016年6月18日)參加了一個溜冰比賽,為這次比賽做準備,她相當樂在其中。
她一直喜歡滑冰/溜冰。在2月時,她決定開始學習花式溜冰。從那時起,我一直看著她享受學習和練習的樂趣。當我們得知教練已經進入到她的比賽,她很刻苦的開始訓練,練習好幾個小時,只是為了追求完美,在此期間,在這段練習時間中,她也沒有忘記她的學習,她完成了她的小學5年級的數學和開始提前學習6年級的數學,而且還參與了幾部電視劇/電影的演出。
最棒的是,她喜歡這當中的每一分鐘。她愛她的忙碌,不管再累再忙,她的成長,是做媽媽的驕傲!