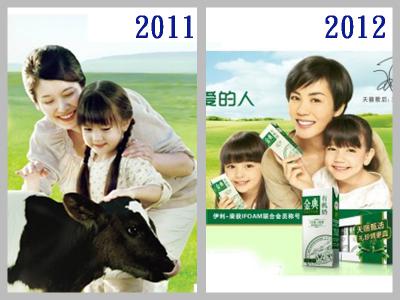 伊利金典有機奶-天賜寶貝王菲篇 is out! This time, Ella got to go to New Zealand for filming the commercial and go to Beijing for the photoshoot. This is definitely an unforgettable experience. Last year, Ella filmed the same commercial in Hawaii. This time, she got to do it with Alysha (another cute little girl) and Faye Wang, 王菲! This is a huge deal since she is one of the biggest celebrity in Asia. It was just awesome.
The original plan was to fly to New Zealand for 4 days for the commercial filming and then headed over to Beijing for the photoshoot. However, the weather was not cooperating in New Zealand and we ended up staying one extra day over there. That really threw a monkey ranch in the planning. We ended up going back to Taipei from New Zealand and scheduled another trip to Beijing 2 weeks later. When I heard the news, I didn't if I should laugh or cry since I brought so much winter clothes with me and my luggage was extremely heavy. But, on the other hand, I thought that it is good this way since Ella probably would be extremely tired after the trip. She should rest a little in the comfort of her own home before we headed over the Beijing.
While we were in New Zealand, the crew had assigned a person to take care of the girls. Uncle Heinz drove us around and got us the rundown and the schedule. For the first three days, besides getting used to the time change, we got to visit the cow and the calf to make sure the kids were acquainted with the animals and vice versa. During the spare time, we visited a few places like tourists. From the Kelly Tarlton Aquarium, Mount Albert historic house, to New Zealand wineries, we all had a wonderful time! But, best of all, it's the trip to Hobbiton. This was definitely a dream come true for me since I am such a LOTR fan. Ella knows the place well since she has seen the movies numerous time with me. We had a great time walking around Hobbiton and listening to the guide. We can't share the photos that we took there since the place is actually a live filming site. I had to sign a few pieces of confidential agreement to promise I will not post or disclose the photos on any of the public and social networking sites.
When we were onsite, Ella and Aly had a Winnebago as their "nanny car." They could play games, take rests, and do the wardrobe fitting and makeup in it. Quite a setup. Uncle Heinz constantly brings snacks and treats for the girls so they would have enough energy through out the two-day filming. When Ms. Faye came on site, the producer, uncle Jay, took Ella to meet her. They wanted to make sure that Ella and Ms. Faye can get to know each other a bit before the filming. Jay and I decided it was best if we let Ella go in Ms. Faye's camper (Winnebago) by herself instead of all of us going in with her and we just waited outside. From outside of the camper, I could hear a lot of laughter and giggling. Ella shared her favorite teddy bear, Piglet, and penguins (just got them in New Zealand) with Ms. Faye. Ella told Ms. Faye about her dolls. What their names are, where they were from and Ms. Faye also got into the character and played with Ella. They had so much fun in the short time they spent together in the camper. Because of this little "greet and meet," they acted so much more natural around each other while they were filming.
Whenever there was a scene that required both Ms. Faye and the girls (or just one of the girls), Ms. Faye was always very nice to them. The weather was a bit odd at the time. It would rain all of the sudden, and 10 minutes later, it would be very windy. Or, it would appear to be sunny and then a sudden rain would come 10 minutes later. Since the girls have very thin clothes on, they felt chilly at times. When Ella got chilly, Ms. Faye always hurried to hold Ella in her arms so Ella wouldn't get cold. Not only Ms. Faye was nice to the girls, also all of the crew members and staff were very mindful of the conditions of the two little girls. They constantly asked me how we were doing, if we needed anything, etc. The assistant director, Paul, was a big teddy bear to the girls and the producer, Jay, was like their hair model. Ella used her hair brush, water bottle sprayer, and hair robber bands to style Jay's hair. It was so funny! Jay, you are definitely "father material" in my book. :-)
The two-day filming was intense. By the time we got back to Auckland from Matamata (filming site) on the second day, it was midnight already. And we had to get up early in the morning next day to catch our flight back to Taiwan. At the New Zealand International Airport, something funny happened. When we were about to check in (first inline), a lady from India grabbed Ella's arm and started to snap photos of Ella while the ground agent kept asking me to move forward to check in. I was so confused with the situation (mainly due to lack of sleep and being exhausted), I didn't think to stop this woman from taking more photos and I just stood there and fretted over it. Finally, when she was satisfied with her photo taking, I could move up to the check in counter and checked in. After that, Ella and I saw something amazing. There was a group of Mari seeing someone off. They were singing and chanting in front of the boarding area. The music was mesmerizing and the ritual they performed was so enchanting!
That sort of sums up our trip. If you want to see the commercial, you can find it at http://v.youku.com/v_show/id_XMzY4NjQ5NTQ0.html. If you would like to see the photos, you can find them at https://picasaweb.google.com/114892292473093404606/eTQXiE or browse through here.