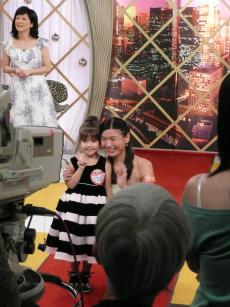 今晚誰當家aired yesterday, March 19th. It was such an experience filming the show. The show was filmed on my birthday and it was also Ella's first TV appearance.
Ella and I arrived at the studio at 1:30 pm. First thing first, we need to choose the outfits that we will wear on the show. After that, it's the gruesome job of makeup. It was easy for Ella. She is cute and beautiful. She doesn't need too much work. As for me, it took about 45 minutes to one hour to get my makeup done. Ella was paying a lot of attention to the makeup artist when she is putting the makeup on me.
After that, it's time to go over the script. The day before the filming, the production staff has asked me a lot of questions about John and I and about the kids. Special things that have happened to the kids because they are mixed kids. I told them a few stories and a short version of our love story. So, some stories made it to the script and some didn't.
About 3:45pm, we finally went on the set. We started with a rehearsal. We were the second pair or the third pair to come out. But, they decided to put us as the first pair to enter the show. The taping of the show was quite smooth. Ella did so well. They had Tiger at the show and he stood right next to Ella. So, Ella was playing with him pretty much the whole time. It was so cute. Ella did a "twinkle twinkle little star" sing and dance. Quite adorable! She was shy, but she really enjoyed it. She told me when we were waiting in the backstage, "mommy, this is fun!". I was so proud of her. She came out of her shell and singed and danced in front of all those people and a camera!
This is the portion of Ella performing "twinkle twinkle little star:"
We finished filming around 5:10 pm. It was definitely an unforgettable experience! I am so happy and glad that I got to do this with Ella. Even though I was nervous speaking Chinese, but it was so worth it.
This morning, Ella, mom, and I went to the market. About 10 people recognized us. Pretty interesting!
---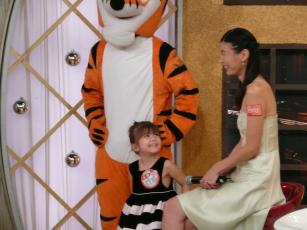 今晚誰當家在昨天3月19日撥出了。 這是一個難忘的拍攝經驗。 不單是在我生日那天拍和也是Ella的第一個電視節目。
Ella-並于下午 1 時 30 分到達電視公司。 第一件事就是我們需要選擇要穿的服飾。 之後,是化妝。 化Ella的妝很容易。 她既可愛又美麗。 她並不需要太多的妝。 那我呢,光化妝就花費約 45 分鐘到 1 個小時。
再來,是要看腳本了。 在拍攝前一天工作人員有問我很多有關約翰和我和孩子們的問題。 特別是混血小孩才會發生的事。我告訴他們有幾個小故事與我們的戀愛故事。 因此,有些故事有被放在腳本,有些沒有。
終於在3:45時我們去了攝影棚。 我們開始彩排。 我們本來是第二個對或第三對出來的,但他們決定把我們作為第一對參加。 節目錄的很順利。 Ella表現得非常好。 他們安排跳跳虎站在旁邊。 因此,幾乎全部的時間艾拉在和他玩。 Ella唱了一首"一閃一閃小星星"歌和跳舞。 很可愛!當我們在等在後臺時她告訴我,"媽媽,這個好好玩!"。 我很為她驕傲。 她走出她的害羞,在大家面前和照相機的前面跳!
這是Ella表演小星星的那一段;
我們大概在5: 10 pm完成了拍攝。 這絕對是一個令人難忘的體驗! 我很高興我有這樣的機會可以和Ella一起上電視。儘管我很擔心我要說中文,很值得。
今天上午,Ella,媽媽,我和去市場。約 10 人有在電視上看到我們。真有趣!